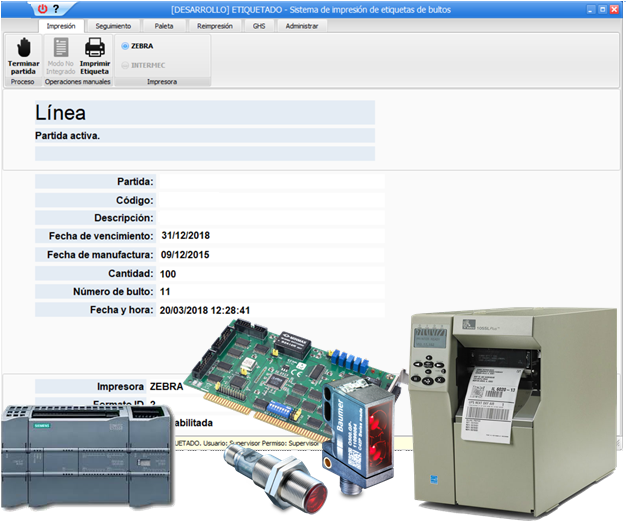 SYSTEM FOR PRINTING PACKAGE LABELS
The Package Label Printing System process provides for the necessary activities of package label coding, printing and reprinting of labels, printing of pallet labels, reprinting of package labels generated by the ERP/MES system, design and administration of the label format.
Benefits
Label printing in controlled form.
Label formats by product management.
Automated and/or manual printing.
Sensor readings with Advantech plates or PLCs signals via OPC.
Product and process traceability.
Integration to ERP systems.
Functionalities and main features
Printing of labels by reading sensors or by means of a pushbutton and printing them.
Printing of granule labels by reading the weight and/or tare of electronic scales.
Association of a seal ID to granules.
Reassign a seal ID to bulk package.
Printing of labels manually.
Check the status of the printed labels.
Check the status of unpackaged packages for lines with transport system.
Check the Seal Package Prints.
Reprinting of labels
Read ERP/MES system labels and reprint with an assigned format.
Association of a seal ID to reprinted packages of the ERP/MES system.
Printing of pallet labels.
Modify the amount of a printed package.
Process items in non-integrated mode.
Consult the existing label formats.
Consult the product code associated with a label format.
Registration, removal and modification of products associated with a label format.
High, low and modification of the formats of the labels.
Configure the line parameters
Configure the parameters of the electronic balances.
Printing reports of changes in the format of labels.
Authentication against domain
Administration of user roles.
Audit Trail.