Compromise
Compliance with the agreements is our constant action. We honor the commitments made and are responsible for the roles our clients assign us.
Respect
To emphasize loyalty, the value of words and respect for others and for oneself.
Quality
To work constantly in the training of our professionals and in the improvement of our processes, thus guaranteeing the quality of our people and our services.
Innovation
Promote an innovative attitude to generate and promote new ideas that lead the way to the efficiency of our company and our customers.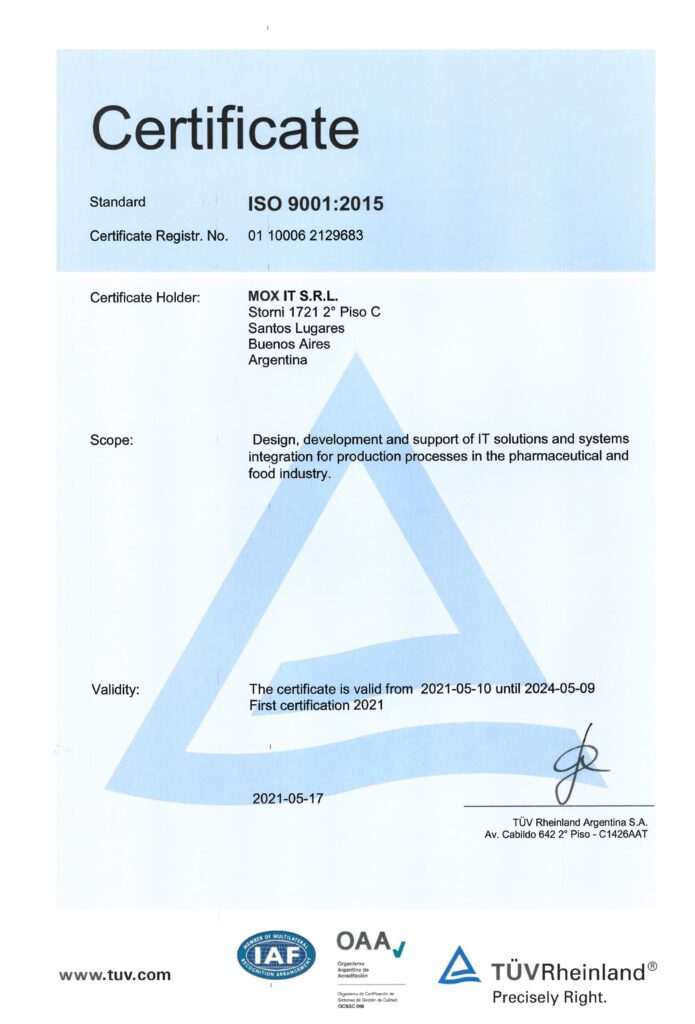 Promoting an innovative attitude The Management of MOX IT assumes responsibility for maintaining a Quality Management System as the basis for all its activities related to:
"Marketing, design, software development, support of computer solutions and systems integration for production processes in the pharmaceutical and food industry".
and undertakes to provide all necessary resources for:
The continuous improvement of the quality management system, maintaining a comfortable, safe working environment, motivating the commitment of our staff.
Ensure customer and stakeholder satisfaction by considering their requirements and strengthening the relationship.
Establish strong relationships with our suppliers and strategic partners.
Ensure commitment to compliance with applicable legal requirements and other requirements to which you subscribe.
To ensure permanent protection of its employees during the development of their activities, providing them with resources and training.
Prioritize order and cleanliness as the means to achieve an orderly, safe and practical work environment.